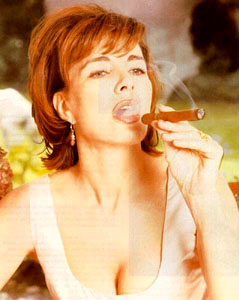 Oh wow. With all the excitement of the Oscar Season kick off, I totally forgot about my poll (insert joke about how I am always thinking about my poll - ha ha he he)
I asked who you felt deserved the Best Supporting Actress Oscar back in 1987.
The results were surprising. I actually thought this would be a toss up between the Jewish mom shtick of Olympia Dukakis and the scary over the top shouting of Owens Mama from Anne Ramsey (my personal favourite –
"Holy Shit! What a dream I was having! Louis Armstrong was trying to kill me!"
).
But know it went to someone completely unexpected.
In descending order
5) With 2% of the votes we have Ann Sothern – The Whales of August
4) With 3% of the votes we have Norma Aleandro – Gaby – A True Story
3) With 15% of the votes we have Olympia Dukakis – Moonstruck
2) With 28% of the votes we have Anne Ramsey – Throw Momma from the Train
1) With 49% we have Anne Archer – Fatal Attraction.
I had no idea this performance was so beloved, but I guess it was. I am now going to have to rent the film (F*ck you voters…the poor bunny boil was enough for my fragile twelve year old self. I raised bunnies, and named them all after characters in "Watership Down"…..my little Pipkin looked like our little pot bound friend here…sniff)
But congratulations Anne Archer. You beat out some formidable opponents and still had such heights in your future as "Body of Evidence" and "Ghost Whisperer". Good to know you are remembered by movie audiences so fondly. Yay you!
For my next poll we will be looking back to the same year, but in the Best category, also know as the year of the 1988. The women you have to choose from are (tough year too!):
Glenn Close - Dangerous Liaisons
Jodie Foster - The Accused
Melanie Griffith - Working Girl
Meryl Streep - A Cry in the Dark
Sigourney Weaver - Gorillas in the Mist
Vote on the poll which is in the bar to the right.