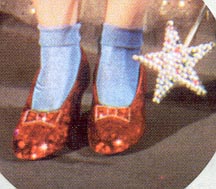 I will loose valuable gay points for this admission (though my
I LOVE Madonna
posts more than make up for it) but I am not a fan of "
The Wizard of Oz
". I was always intrigued by the Wicked witch, but I always found all the other characters tediously childish.
Sure the signature song is wonderful, and
Judy
tears the sh*t out of it, but as a child I was bored by this film.
I remember whenever Mum put it on to entertain me, I would be upset and demand "
The Parent Trap
" or some other
Hayley Mills
film (I was obsessed with her, so much so that me and my best friend Heidi used to play the movie – I was always Susan because of my short hair, but I yearned to be the well mannered, classy Sharon *sigh*)
The only time I appreciated the world of Oz was when I read
Wicked: The Life and Times of the Wicked Witch of the West
. The whole world came together and the characters were all fleshed out and sympathetic. It made sense, and for a children's fantasy story, it was extremely political and thought provoking.
As much as I loved the musical of
Wicked
, the book should really have been filmed as a miniseries on a Showtime/HBO to really do justice to the book, and the world of Oz created by
Gregory Maguire
.
So imagine my delight at the news that Warner Bros. and Village Roadshow Pictures are teaming to re-tell
L. Frank Baum
's classic story, based on an idea from comic book writer/artist
Todd MacFarlane
that has been fleshed out by screenwriter
Josh Olson
. This combination alone sounds like it would produce very very interesting results, add the subject matter, and you have one interested blogger here.
MacFarlane did design a line of Oz dolls in which Dorothy was redesigned to look like a
S&M victim
, however this will not be the image for the film.
This new Oz is expected to be darker in tone, according to Olson ''I want this to be Harry Potter dark, not Seven dark,'' Olson said.
I would be happy with something in between. Something more along the lines of "The Lord of the Rings" trilogy, but not so one sided. I hope Maguire's wonderful story is not forgotten in favour of making the Witch just a villain and Dorothy just a hero. I hope they mix things up a little and try to combine both stories and do not shy away from appealing to adults and instead pander to children.
Then again, perhaps they can make two films, the second telling the story of Elphaba. Please oh please, don't just leave it as the story told in the musical. There is so much more to it.